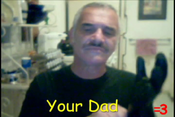 Your Dad
is always a male person usually over 40 years of age seen in one of the viral videos Ray reviews. Therefore, Your Dad is not a set person but rather a name used to call unknown people.
Ray usually uses the name as a provocation to his viewers since Dad's are generally actors or victims of mishaps in viral videos.
Your Dad first appeared in Your perverted dad? under the name of Poledancing Dad. Your Dad is probably your sexy grandpa son maybe ?