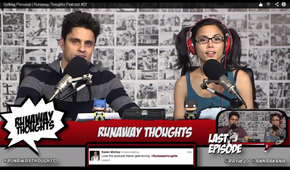 Runaway Thoughts
was Ray and Anna's vlog series in which they answered questions sent in by video from watchers.
Ray and Anna answered questions sent by users via video message. The current question was displayed at the bottom of the screen, with a twitter feed for #runawaythoughts underneath.
There was a segment called "make it or break it" in which Ray and Anna discussed a hypothetical problem where "you've been going out with this person for about two weeks, and you've had four fantastic dates, when they drop a bomb on you". They then discuss whether they would make the relationship work, or break up with the person. Some of the subjects included have been; ninja turtle hands, turning into the opposite gender when coming into contact with water, having a prosthetic ass painted with racing flames, only being able to talk in song lyrics and pooping in cubes.
In episode 54, a segment called "This exists" was started, which showcases some strange items that are available for purchase on the internet, such as a Barack Obama dildo, tortilla chips shaped like the Pope's hat, William Shatner's kidney stone, Justin Timberlake's half-eaten French toast and an 18-year old's virginity. Fap