Robby Motz

Information
Full Name

Robby Motz

Nickname(s)

The guy that always shuts up Dan.

Gender

Male

Date of Birth

July 12th, 1994

Production
First Episode
Last Episode
Portrayed By

Himself
Robby Motz (aged 24 as of 2018) was the host of Equals Three in 106 episodes from July 16, 2014 in "The Resurrection" to July 24, 2015 in "ROBBY APPROVES THIS MESSAGE". Since he joined Equals Three, he has started his own YouTube channel under his name with 32+ listed videos that have accumulated 550K+ views, and 68K+ subscribers (as of 8/29/15). His first video on his channel was of him doing the then viral ALS Ice Bucket Challenge. 
Watch his video describing it in his own words here.
He describes how he inititally decided to take that job so that he could see all of his favorite musicians for free. He then realized how badly he was treated on a night when Fleetwood Mac was performing. He quit the next day.
Hosting Equals Three
Edit
Watch his video describing it in his own words here.
When Ray William Johnson retired as host from Equals Three, he started searching for a new host. Robby went into the audition not really knowing what it was for. Robby's agent, Terrie, called him a week afterwards to break the news that he was the top choice for a show called "Equal Sign Three?". He watched the show and noticed how big of a deal it was. Robby was both nervous and excited to start hosting the show, and made his debut on July 16, 2014 in "The Resurrection ". Jenna Marbles began the video introducing the audience to Robby. He then introduced himself to the audience, and ended his introduction by throwing a fake baby at the set wall nonchalantly, a recurring joke in the show.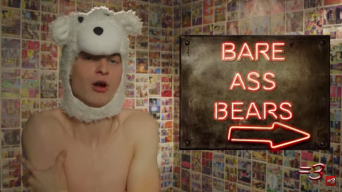 The show had pretty much the same comedy writing that Ray had, but Robby had new jokes and characters, along with a different personality from Ray that was slightly awkward, but very funny and charming.  Among the many great characters he has done, his best known charcacter is probably the "Bare Ass Bear ".
When his one-year contract expired, his time to host was sadly over. He was replaced with Kaja Martin on July 28, 2015.The fans really grew to like Robby and do miss him now that he's done hosting.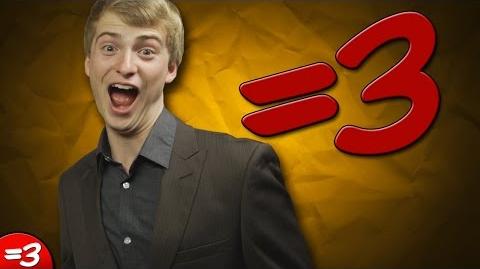 Catchphrases
Edit
Shut the f██k up, Dan!
(Another sentence), Mom. (in a judging tone)
Community content is available under
CC-BY-SA
unless otherwise noted.