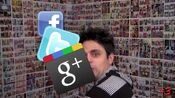 Google+
is an enemy on Equals Three. In almost every episode he/she appears in, Ray kills him/her. He does it as a joke since Google+ is largely hated by the public. The first time Ray kill google plus was in the episode "im back" and like kenny from south park google plus dies in all the episode. He cut the google plus joke after he ended the comment question of the day.
-Google+ Took Over Youtube's Comments And Made Them Worst In 2013 leading to a public outburst.
-RayWilliamJohnson has over 80,000 people in his Google+.